Restaurant Mystery Shopping
Restaurant Mystery Shopping & Customer Experience Solutions
As a restaurant owner or manager, you strive to provide impeccable service. But how do you know if your guests are really experiencing the best?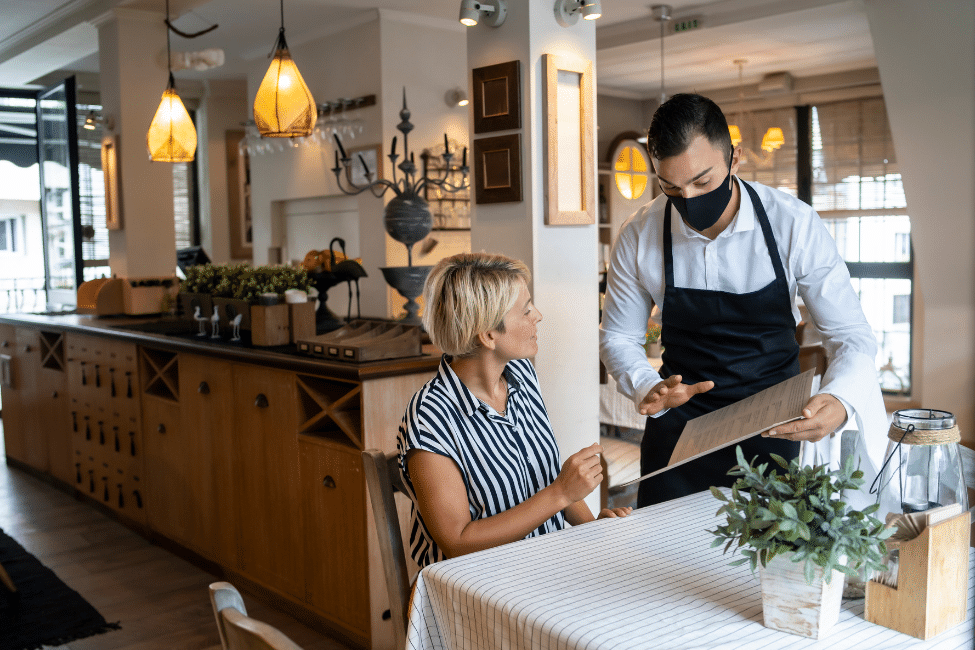 To improve your staff's service, turn to Reality Based Group™ — the leader in restaurant mystery shopping and customer experience solutions.
Our innovative technology and covert mystery shoppers allow you to experience the perspective of a guest dining at your restaurant. With RBG, you'll gain new insight into the customer experience.
Armed with this information, you can focus your team's training to best serve the customer and promote increased table averages and guest loyalty.
The restaurant industry is highly competitive, and protecting your reputation and improving customer reviews can mean the difference between succeeding and failing.
RBG teams with you to create a customized program that meets your specific needs. Our custom mystery shopping, video mystery shopping, customer satisfaction surveys, and innovative technologies will help improve your diners' experiences.
Whether you have recently opened a restaurant or you've been a standard in your community for years, we can improve your staff's customer service.
Keep reading to learn more about our restaurant mystery shopping solutions.
Restaurant Mystery Shopping Insights & Solutions
RBG offers several mystery shopping and customer experience solutions to meet your restaurant's needs.
Our tailored programs first collect actionable data on revenue-driving behaviors. Next, we guide you through the coaching techniques to improve customer service for powerful results.
Our innovative customer experience technologies include:
GameFilm® – Video Mystery Shopping
See your staff in action with real film of guests' experiences, eliminating subjectivity and allowing you to concentrate on improvement.
MysteryShopping+™ – Written Mystery Shopping
Develop a unique scorecard based on your goals and let our trained mystery shoppers evaluate your restaurant.
RealFeedback™
Unlike the objective focus of other solutions, Real Feedback™ presents insight into subjective customer data utilizing our evolved customer satisfaction survey.
RealCheck™
From manager to merchandising audits, we provide highly customized mobile audits to measure and improve your operational procedures.
Additionally, our solutions can be combined to fit your needs. We truly create a customized approach to improving your restaurant.
Covid-19 Effects on the Restaurant Customer Experience
The restaurant industry has never seen a shock like the one that has shaken the service industry during the Covid-19 global pandemic. Government shutdowns and social distancing measures have strangled restaurants and service-oriented businesses.
Your staff needs to maintain the Covid-19 mitigation protocols while continuing to take care of the customer's every need. But how do you know if your team is wearing their masks at all times like required? How do you know if they are keeping your patrons safe?
All of these mandates have made providing exceptional customer service even more difficult. At the same time, they have made customer service that much more important.
To make sure your staff is properly adhering to Covid-19 regulations and making the extra efforts to keep customers happy, turn to restaurant mystery shopping with RBG.
Our team has created Covid-19 strategies to improve the restaurant experience during these unprecedented times.
Online Ordering, Delivery, and Pick-Up Customer Experience
Over the past few years, online ordering has gained popularity. And with the Covid-19 pandemic, restaurants across the country have witnessed a spike in online ordering, delivery, and pick-up.
Once an afterthought, customer service regarding online ordering, delivery, and pick-up has become just as essential as your restaurant's dine-in service.
Ensuring that the food you're delivering looks and tastes just like it would for a guest sitting in your restaurant's dining room is important. And greeting every pick-up customer with a smile builds loyalty.
But how do you know if your staff is maintaining the highest food and customer service standards at all times?
Just like with dine-in scenarios, RBG has created restaurant mystery shopping strategies so you can view the customer experience from their eyes during delivery and pick-up.
Using this information and data, the team creates a plan and strategy to improve your delivery, online ordering, and pick-up procedures.
RBG is the leader in helping restaurants quantify and improve their customer experience both in-person and online.
Why Choose RBG Over Other Restaurant Mystery Shoppers?
Our technology and tools help us stand out from the competition. From program design and scorecard build to the resources, coaching, and training, RBG leads the pack.
Our closed-loop program is tailored to fit your needs and the culture of your restaurant.
With programs focused on results, we have the record to prove that we provide restaurants with successful solutions, and we have developed the leading best practices for improving your restaurants' customer experience.
Our customized restaurant secret shopping programs include core measurable action items as well as data points for unique restaurant concepts.
We have been the industry leader in retail mystery shopping for more than 20 years and understand how to improve the customer experience to increase revenue and customer loyalty.
Let us show you the RBG difference. Contact us today to start developing a program tailored to your restaurant's needs. Our superior processes and personnel set us apart. Teaming with us will improve your bottom line.
Let's start a project, get in touch, or just say, "Hello!"