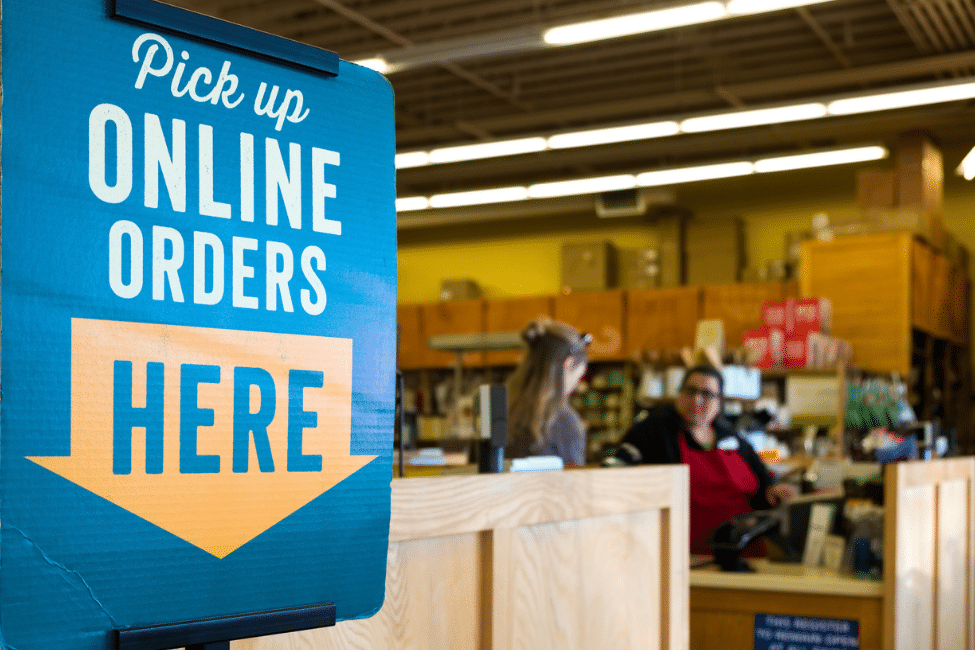 Every interaction your customer has with your business informs your customer experience. In the last year, BOPIS (Buying online and picking up in-store) has become one of the most popular multi-channel trends for consumers, and it's a significant part of your customer experience. 
How significant? During the pandemic, BOPIS grew more than 500%, with 56% of consumers saying they will continue to use BOPIS options post-pandemic. BOPIS is the trend that is here to stay and can help you meet your customer's expectations for safety and convenience. As business owners, you need to make sure your BOPIS is contributing positively to your customer experience. 
Here are four ways you can make sure your BOPIS is helping you build brand loyalty and contributing to your bottom line. 
Go Omnichannel
The rise of BOPIS presents an opportunity to unite your various consumer channels into one omnichannel experience, allowing you to take your customer from the digital side of your business to the in-store experience without a loss of personalization. By adopting an omnichannel approach, you have the potential to increase your revenue by 5 – 15 percent, using data you collect throughout every part of the BOPIS process. This data can help you tailor future offerings, reduce marketing costs, and differentiate you from online-only retailers like Amazon. 
You Only Get One Chance To Make a First Impression
BOPIS starts with your customer placing an order via your app or website. For many, this interaction is the first impression they have of your business, therefore, it's essential to make it a good one. Your app or website needs to be easy for consumers to navigate and find the products they want. It should offer recommendations for additional items and your inventory should be reflected in real-time. Consumers want to find what they want quickly, and they don't want to be surprised by substitutions or out-of-stock items when they come to pick them up.  
Make Your BOPIS Easy to Adopt
Once they arrive, you should have signage that clearly identifies areas both inside and out. The pick-up instructions should be short and easy to follow and the delivery of items quick and pleasant. When consumers have to wait, or the process becomes cumbersome or challenging, you dramatically increase the likelihood that they will leave your brand for another. Research indicates that 73% of consumers will abandon a brand after three or less negative customer service experiences, making your pick-up process vital. 
Don't forget the Add-ons
Once inside your location, studies have shown that 85% of shoppers will make an additional purchase when picking up, so make sure you're ready to capitalize on that opportunity.  You can do this by having a dedicated area for BOPIS that you can dress to make those last-minute add-ons easy to access and appealing. Some consumers may even want to browse your location so make sure it's clean and well laid out as these consumers are most likely going to make quick decisions on additional items while in-store. 
Also, be sure your employees are well trained in your BOPIS process and can easily add items to the order or process a new one. Making add-ons an easy part of your BOPIS not only helps you increase your sales but expands your overall customer experience. 
Next Steps
Now that your customers have been using your BOPIS, how do you know if it's deepening brand loyalty and contributing to your bottom line? 
You measure it! 
By utilizing a well-designed mystery shopping program, you can get data-driven insights on every point of the BOPIS customer journey. These key insights can help you identify areas of improvement and opportunity. By following the data, you can track your progress straight to your bottom line.  
Contact us to learn more about how to measure and optimize your BOPIS experience.
[maxbutton id="1″ url="http://realitybasedgroup.com/contact/" ]
Get Started
More Undefeated Content